Winter Driving Tips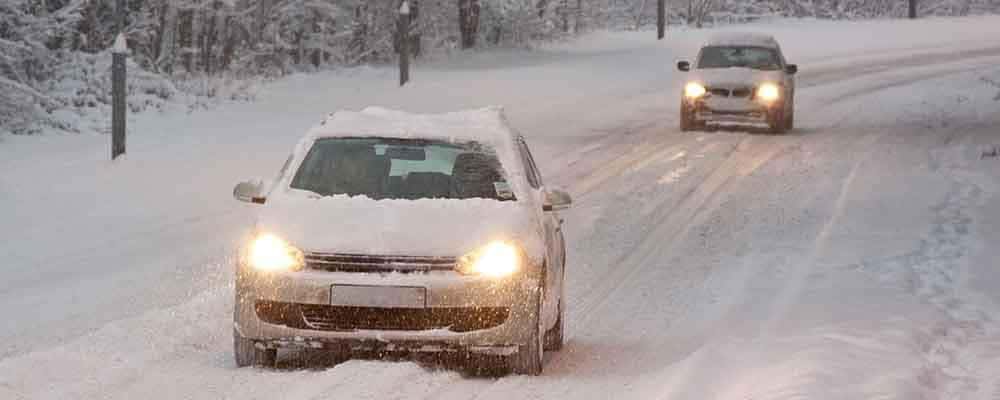 The winter months are in full swing in Hartford and West Hartford, and it's vital to be prepared for road conditions with freezing rain, ice, and snow. Each winter, follow this winter vehicle safety checklist to stay safe on your drives:
Pack a Winter Supply Box
Check Your Fluid Levels
Check the Tire Pressure and Tread Depth
Switch to Winter-Grade Oil and Wiper Fluid
Have the Battery Tested
Check the Headlights and Brake Lights
Check out our winter driving tips in more detail below Acura of Avon, then schedule service at our authorized Acura service center to get ready for the winter weather!
1. Pack a Winter Supply Box
If you get stranded on the road in Canton, you'll want to make sure you stay safe in freezing and low-visibility conditions. It's always a good idea to be prepared for the worst by keeping these items in your car:
Flashlight and road flares
First-aid kit
Extra gloves, clothes, and blankets to stay warm
A radio and a charged cell phone
A Bag of Sand/Cat Litter or Carpet Sections for Traction
Extra Ice Scraper
High-Energy Snacks (Such as protein bars and jerky)
2. Check Your Fuel, Coolant and Antifreeze Levels
It's important to make sure your fuel tank is always at least half full in the winter. Temperatures dropping to extreme lows overnight may cause issues when you try to start your car in the morning on a tank that is lower on gas.
Antifreeze keeps your engine from freezing when temperatures drop. Check the level yourself or have it checked at a service center. Coolant and antifreeze should be available at every auto supply store.
3. Check the Tire Pressure and Tread Depth
Insert a penny into your tire's tread with the top of Lincoln's head pointing inward. If you can still see his head, you should replace your tires. Even if you can't, make sure you check the tire pressure – changing temperatures can affect it. You can also change out your all-season tires for winter-grade tires. If you live in an area with steep hills and frequent snow, you may even want to upgrade to snow tires.
4. Switch to Winter-Grade Oil and Wiper Fluid
The colder the weather, the thinner you need your oil. When winter is coming, consider switching to oil with a lower cold weather viscosity grade. You'll also want to switch to winter wiper fluid to prevent freezing.
5. Have the Battery Tested
Your battery's capacity decreases significantly in colder weather, so checking it right before winter makes sense. You'll also want to park in a garage instead of in the freezing cold if you want to protect your battery.
6. Check the Headlights and Brake Lights
Headlights and brake lights need to deal with thick winter fog or snow. Check for any cracks or discoloration.
Acura Winter Driving Advantages
Buying a new Acura with AWD can help conquer even the snowiest of roads. Explore Acura features that can give you a leg up when tackling winter roads in Manchester:
SH-AWD®: With the Super Handling All-Wheel Drive™ system equipped, a vehicle like the Acura MDX is able to shift power precisely to the wheels using torque vectoring to compensate for snow and ice.
AcuraLink®: AcuraLink will send you updates anytime your vehicle requires service to help avoid surprises. If you do run into any trouble out on the road, AcuraLink will automatically contact emergency services or help you get a tow.
Acura Safety: Acura has won many awards for their advanced safety features that can help protect you on a bad weather day.
Getting Your Car Winter-Safe is Extremely Important
The temperatures will drop and the roads will turn icy as winter hits Berlin and Hartford, so it's best to make sure your vehicle is prepared and you can with these winter driving safety tips to tackle winter road conditions in Hartford, CT. Need any further advice or assistance? From financing to Acura service, we're always here to help – feel free to contact us today.
---
Learn More at Acura of Avon
It's been over two decades since a new Acura Integra has graced the streets of Hartford, but now it's back and better than ever! The 2023 Acura Integra is here, and ready to show you just what a sports sedan can be. You're probably wondering what the Acura Integra price will be, and the crew…

Now more than ever Hartford drivers are placing a high priority on fuel economy. From switching to electric vehicles to downsizing from SUVs to sedans, we're all looking for ways to cut our fuel consumption. One way to do so is by driving a 2022 Acura TLX. With a top fuel economy rating of 31…

There are four packages for Hartford drivers to choose from the Acura Integra. The interior is designed with 12-way power adjustability and memory function seats, along with a leather-wrapped steering wheel and ambient cabin lighting. Each bit and piece of the Acura Integra is designed for versatility and functionality from the 9-inch full color touchscreen…